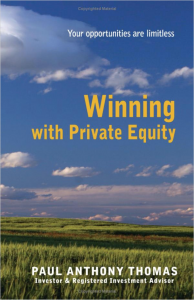 Private Equity Investing Pitfalls
Learn these most important lessons.
Greed – the worst of all
Too Much Ambition
Ignorance
Elevated Expectations
Overconfidence
Marginal Deals
Counting on the Government
Mis-management
Debt as a hidden partner
Winning with Private Equity
by Paul Anthony Thomas
The rules of private investing are omnipresent and learned through experience.  Before you place your hard earned money in a private deal, you need to read this book.
Inside You'll learn:
a. Common pitfalls to watch for from the sponsor.
b. How to screen a sponsor for honesty and sincerity.
c. How to tell a real sponsor/investor from a promoter.
Paul will tell you his stories from a long career in this interesting but dangerous field of private investment.  Examples of stories include:
1. Opportunities Missed.
2. The Keys to a good private equity investment.
3. Traits of a "deal" promoter.
About Paul
Paul Thomas, a 40 year veteran of private equity and value investing, recounts several of his hard learned lessons in this easy read. Having been mentored by a 50 year veteran of the venture capital and private investing world, Mr. Thomas' experiences cover a wide variety of business sectors and topics including: Motivation, Proper Capitalization, The Right Attitude, Hedging and A Workable Exit. Text includes a detailed discussion of  seven pitfalls to avoid in private investing.

Buy it today.