Black Swan Opportunities
For Creating Wealth
During our market study time as a young man in the 1960's, 1970's and 1980's, my father told stories and showed me news articles of the massive wealth created during the great depression (1929 to 1939), when cash flush investors purchased assets and companies that would profoundly change the course of their lives. We saw it happen in 1986, again in 1992 and in 2009, but today (during the depths of the Covid19 pandemic) things are different in a massive way.
The energy sector was already deep in debt and struggling to meet investor expectations.  With the current collapse of oil and gas prices (some as low as $5 in the field today), many oil operators will not survive and the race for assets of all types is on.  You need an expert in this field to help you find the right properties and products to purchase, to manage the assets with experience and knowledge and to work tirelessly to make you a profit.
In 2020, 2021 and into 2022, never before seen opportunities to create generational wealth will be presented in the energy space. High quality assets will sell for pennies on the dollar.  The careful, wise investor with the knowledge, experience and available  cash will prosper like never before.
Some examples are outlined below from prior "Black Swan" events.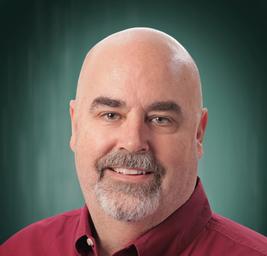 Let Us Do The Hard Work
Custom Private Equity (CPE) wants to be your management partner to do on-the-ground research and due diligence that insures investments made under these frantic circumstances will endure long into the future and create generational wealth for our partners.

Help us create a portfolio of energy assets that will pay you exceptional dividends for decades to come.
You can Give
Distressed Sellers
Immediate Relief
In hard times, business owners still have bills to pay, and no way to pay them. They've got loans on equipment, vendors to pay, bank notes, payroll, and more obligations that are demanding cash today.
They need to liquidate some assets quickly to take care of their responsibilities.
We understand the incredible stress this creates for them. Stress not just on their business but in their personal lives as well.
They know the hard choices they have to make and are ready and willing to make them. 
They just need someone with capital to help them out.
We can be that someone , helping them out and prospering at the same time.  A WIN, WIN, WIN is what we seek.
Key Sectors of the Economy
Have People In Critical Need of Cash
Having lived and worked through multiple "Black Swan" events, Custom Private Equity (CPE) knows where to look, what to buy and how to manage the assets. CPE will apply decades of experience to locate the best deals. During times like these,  opportunities walk in our front door every week. We've been evaluating deals for decades. 
What is the right deal?  This research takes time, money, knowledge and extensive due-diligence.
It depends on your end goals. Not every deal is right for your portfolio. Sometimes it isn't right because the deal isn't the kind of asset your portfolio needs.
Often, prospective opportunities are not as good as the seller thinks they are. You need someone with expertise to vet, research and manage those opportunities.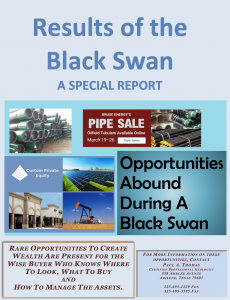 Get Our Free Detailed Report
Principal, Custom Private Equity, Inc.
Sponsor of Ledger Opportunities Partnership, Ltd
Examples of the Opportunities We've Seen In The Past
Industrial, Hospitality, Office, Yards, Ranches, Commercial Land, Recreational...
During the oil price crash of 1986 and 1997, Commercial Real Estate routinely sold for 10¢ on the dollar as owners needed quick cash to satisfy bank notes. CPE was active in this marketplace. 
Trucks, Trailers, Railcars, Equipment
During previous oil price corrections (crashes), vehicles and rolling stock routinely sold for drastic discounts as shippers and suppliers needed cash NOW.
Oil Field Pipe (Tubulars), Pumps, Rods, Equipment, etc.
Millions of feet of tubular oilfield supplies routinely sold lower than the scrap metal price as oil operators, manufacturers, and suppliers liquidated unused supplies to get cash quickly.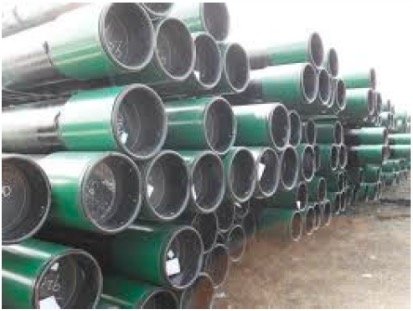 Some Past Examples:
June 2009
New Oilfield Tubulars sold below scrap metal prices.
January 2015
In October of 2014, Illinois production rods sold for $1.10/ft. 
By January 2015 they were selling for $.10/ft. by the truckload.


OPPORTUNITIES COMING FAST & FURIOUS IN 2021!
Small auctions that happened once a quarter in 2019 are now 10 times bigger and coming 2x monthly now as private lenders and banks tell equipment owners to sell to pay down debt. Even at $55 oil, the effects of $30 oil are still rearing their head. Bankruptcies are still frequent and coming weekly in 2021. We expect this to accelerate as oil and gas hedges expire throughout 2021.
Knowing What To Buy and How To Manage The Asset is Critical...
Bankruptcy-hit US E&Ps set to lose a quarter of oil production in 2021
OIL & GAS JOURNAL, JAN 18, 2021.  As Chapter 11 filings by US exploration and production companies (E&Ps) continue, onshore oil production from companies that filed in the last 2 years is set to decrease by about 25% by end-2021, or about 200,000 b/d compared to current output levels, according to Rystad Energy analysis. The loss puts the projected nationwide production growth for 2021 at risk of being offset. 
Operated oil production from the recent filings is heavily weighted in the Eagle Ford and Bakken regions, at almost 400,000 b/d. Permian-focused operators currently going through restructuring only produce 80,000 b/d in the basin.
Across the US onshore industry, about 800,000 b/d is operated by E&Ps that have filed for bankruptcy protection in 2019-2020. With limited capex and completion activity, it is anticipated that production from this group will decline further to 600,000 b/d by late-2021.
The same peer group lifted around 8.5 bcfd of gross US land gas production. While some is associated gas, which will track oil output from the different oil basins, Rystad does not expect any significant production declines in the Appalachia and Haynesville regions as operators who have filed Chapter 11 are maintaining adequate activity levels in the regions.
The preliminary 2021 guidance summary, based on US companies' third-quarter earnings reports, shows that public tight-oil focused producers still active are targeting to simply maintain activity levels next year.
"We may see sequential production growth somewhere in the 80,000-120,000 b/d range between the last 3 months of this year and the fourth quarter of next year. In addition, the supermajors and private companies will also post marginal production increases," said Artem Abramov, head of shale research at Rystad Energy.
"Chapter 11 filings affect the whole industry. Most of the growth in US tight oil which was expected towards the end of 2021 is at risk to be offset by the decline in output from companies that have filed for restructuring in the last two years, as most of them are currently in their base decline phase with limited new well activity," he said.
The group of operators that filed for bankruptcy in 2019 (many have completed restructuring) has spudded just 7 US onshore wells since second-quarter 2020. The slow post-restructuring recovery is largely related to the market downturn, but regardless of the price environment, the Chapter 11 group of operators is unlikely to come back with significant capex increases before second half 2021, Rystad said.
While E&Ps that filed for bankruptcy this year have drilled 15-30 wells/month since August, just two operators were responsible for the majority: Chesapeake and Extraction. Excluding Chesapeake and Extraction, the current spud rate is negligible compared to the 100-140 wells/month delivered by the peer group in 2017-2018.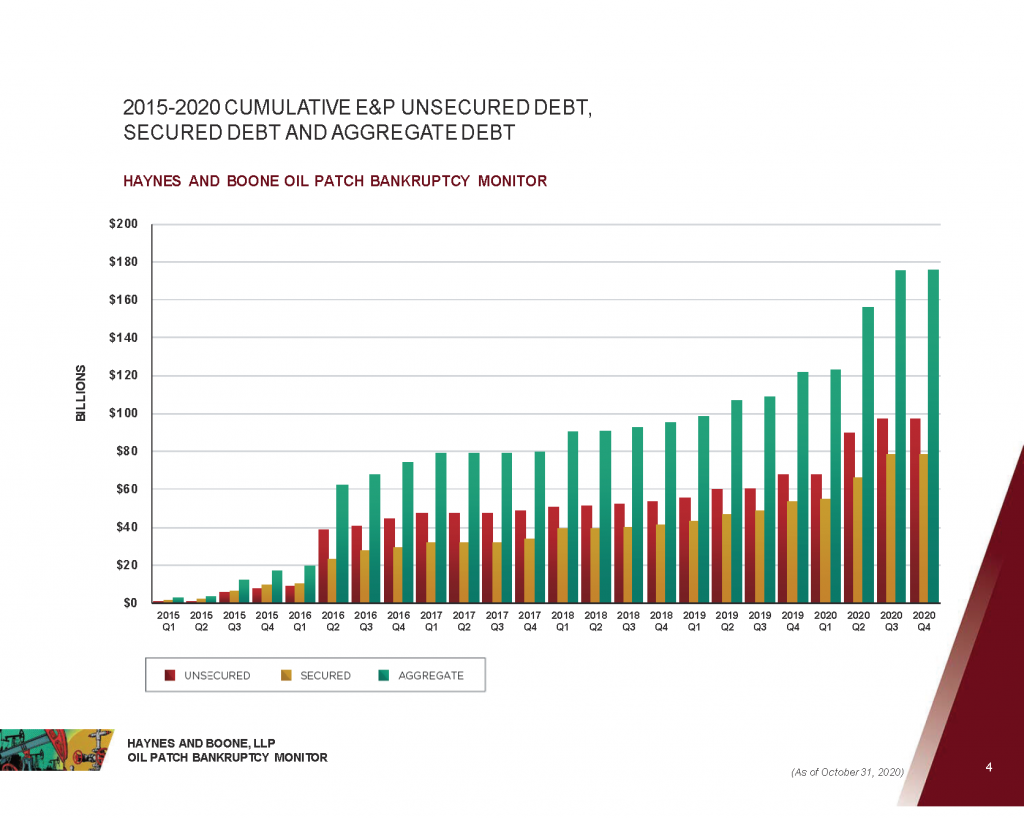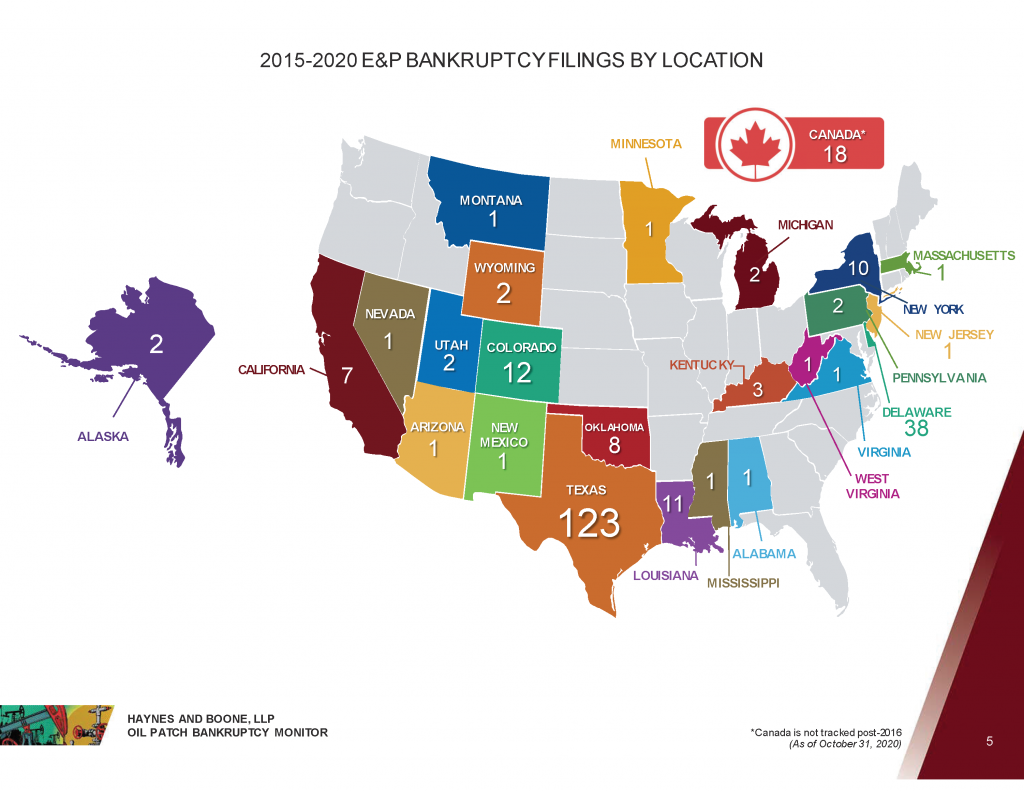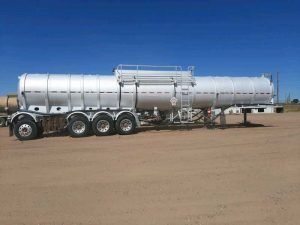 October 28, 2020
Live Online Auction
OILFIELD EQUIPMENTAfter this auction, Ledger Energy Opportunities Partnership would have invested $1.1 million in equipment, with the expectation of selling this asset base for $2.3 million by December 2022.
Oct. 30th 2020Exxon to cut 15% of its workforce...
Oil giant Exxon announced yesterday that it will cut 1,900 US employees and reduce its global workforce by as much as 15% — around 14,000 people in total. Exxon earlier this month reported that it was cutting 1,600 positions in Europe through the end of 2021. This is due to the pandemic, the lack of demand for oil, and the transition into green energy.
Dec 2nd, 2020
ConocoPhillips to cut 500 Houston jobs after Concho takeover
ConocoPhillips plans to lay off about 25%, or around 500, of its Houston headquarters employees starting Feb. 1, as it cuts costs and prepares to acquire Concho Resources in early 2021.
Day 1 – Ledger Energy Opportunities Ltd (LEOP) would have invested $505,000 with an expected return of $1,600,000 within 3 years.
Day 2 – LEOP would have invested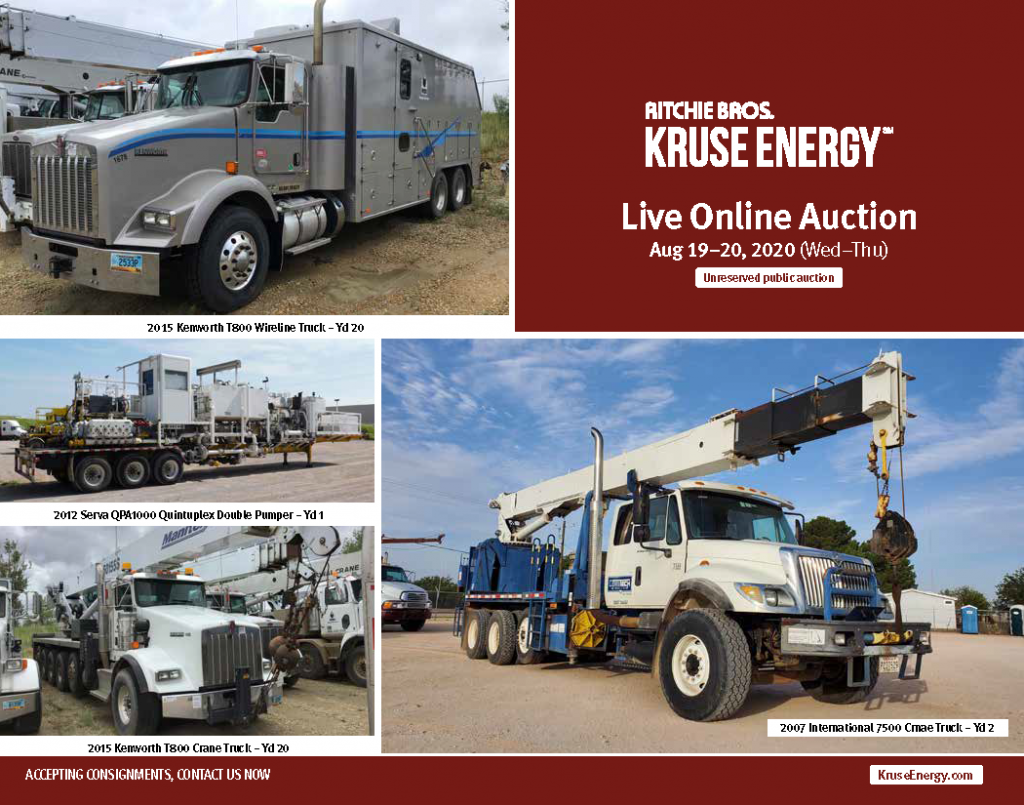 Lilis Energy to Pursue Bankruptcy Sale
Permian pure-play Lilis Energy is pursuing a process to sell substantially all of its assets through the Chapter 11 process, which may be pursuant to section 363 of the bankruptcy code or a Chapter 11 plan.
Diamondback posts Q2 net loss on $2.54 billion impairment
Diamondback Energy's second-quarter 2020 net loss of $2.39 billion includes a non-cash impairment charge of $2.54 billion as a result of the lower SEC pricing due to the sharp decline in commodity prices.
Oil giant Royal Dutch Shell on Thursday reported a sharp drop in net profit for the three months through to the end of June, following an unprecedented period of energy market turmoil and significantly weaker oil and gas prices.
The Anglo-Dutch company reported adjusted earnings of $638 million for the second quarter of 2020. That compared with net profit of $3.5 billion over the same period a year earlier and $2.9 billion in the first three months of 2020.
Source: CNBC

Shell Takes $16.8B Impairment

Ron Bousso and Shadia Nasralla July 30, 2020
Shell Logo / Image by Alexandr Blinov – AdobeStock
Royal Dutch Shell avoided its first quarterly loss in recent history, helped by a booming trading business, but announced nearly $17 billion in impairment charges reflecting a pessimistic outlook for oil and gas prices.
Shell had warned last month it was set to slash the value of its oil and gas assets by up to $22 billion as the coronavirus crisis hollowed out energy demand.
OE Digital – 2020-07-29 
Total Books $8 Bln Asset Impairments
July 29, 2020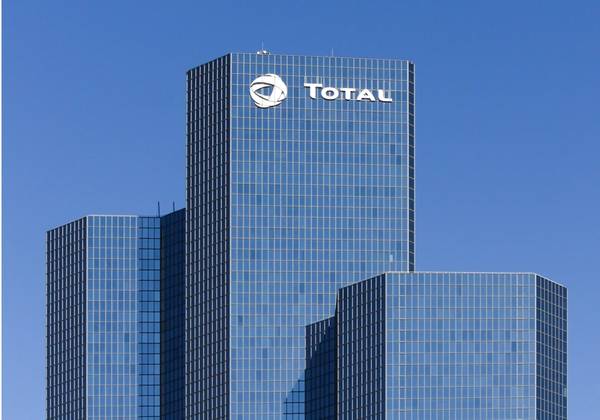 © Ricochet64 / Adobe Stock
French energy group Total will book an exceptional impairment charge of $8 billion mainly on its Canadian oil sands and liquefied natural gas projects, it said on Wednesday.
"Overall, the exceptional asset impairments that will therefore be taken into account in the second quarter of 2020 amount to $8.1 billion, including $7 billon on Canadian oil sands assets alone," Total said in a statement, adding that this will increase its gearing ratio by 1.3%.
(Reporting by Bate Felix; Editing by David Goodman )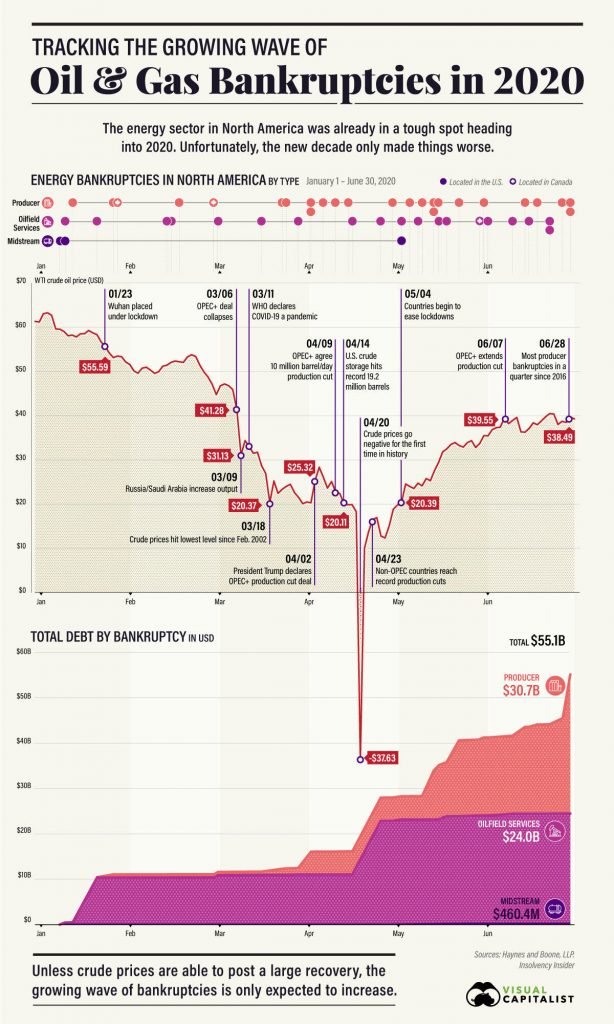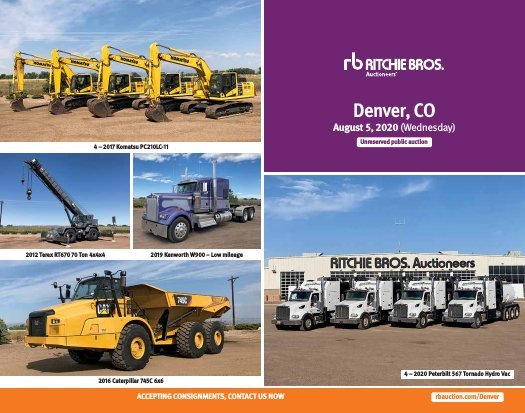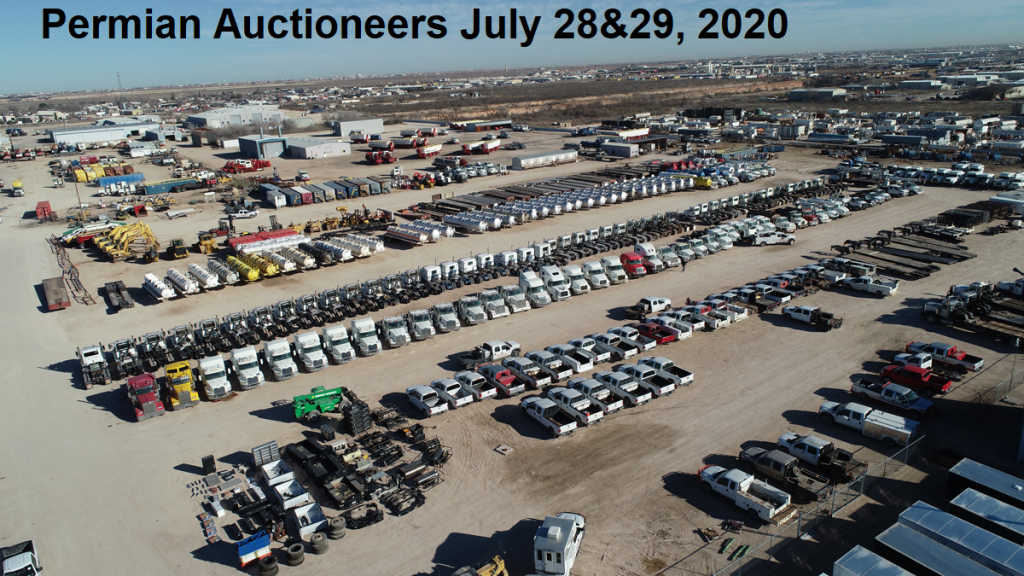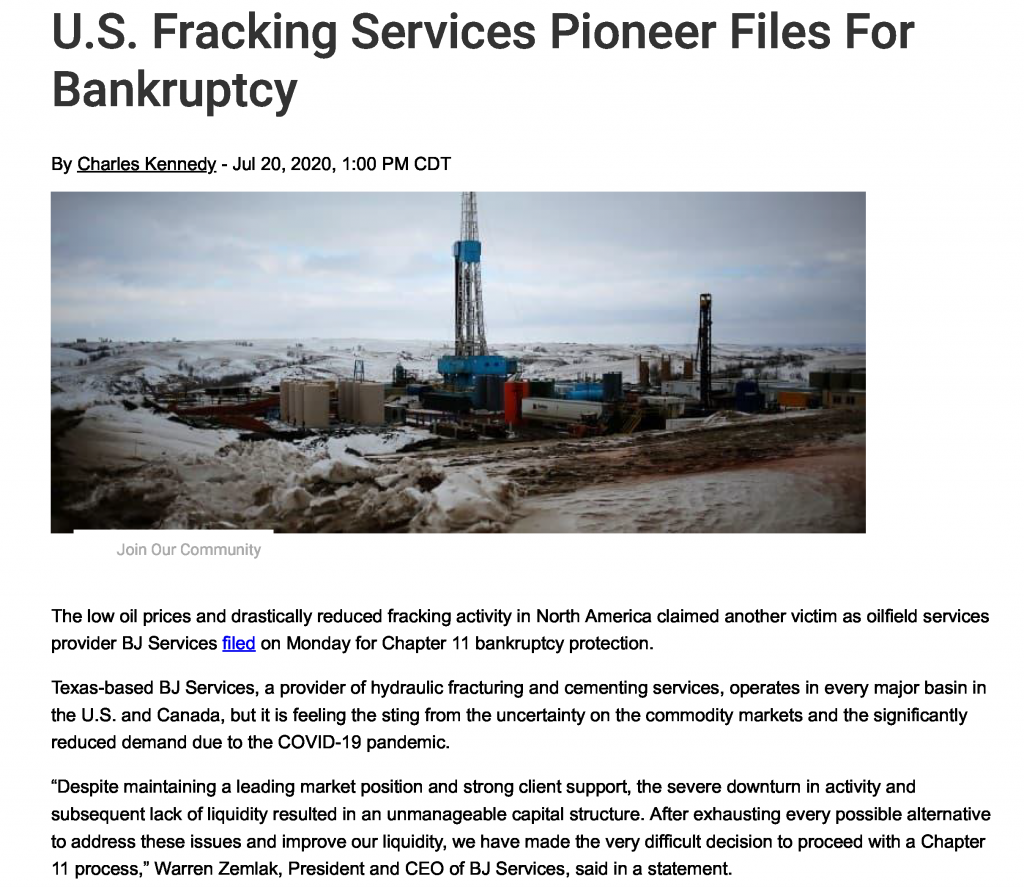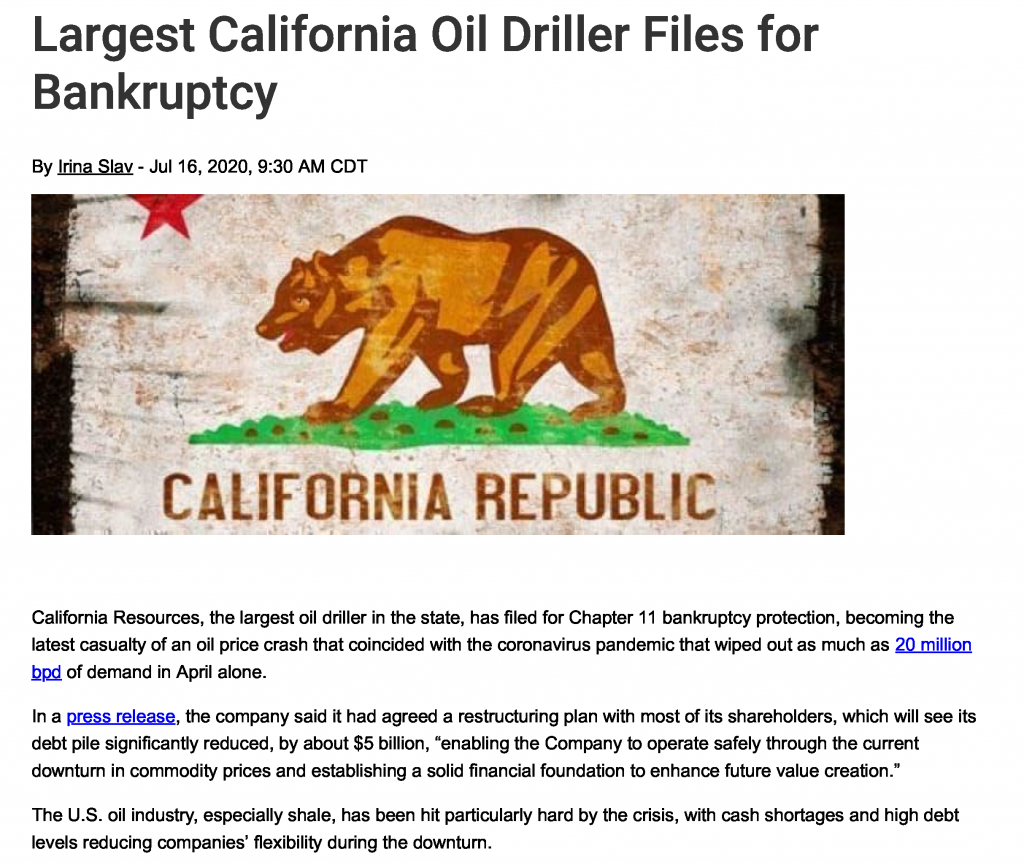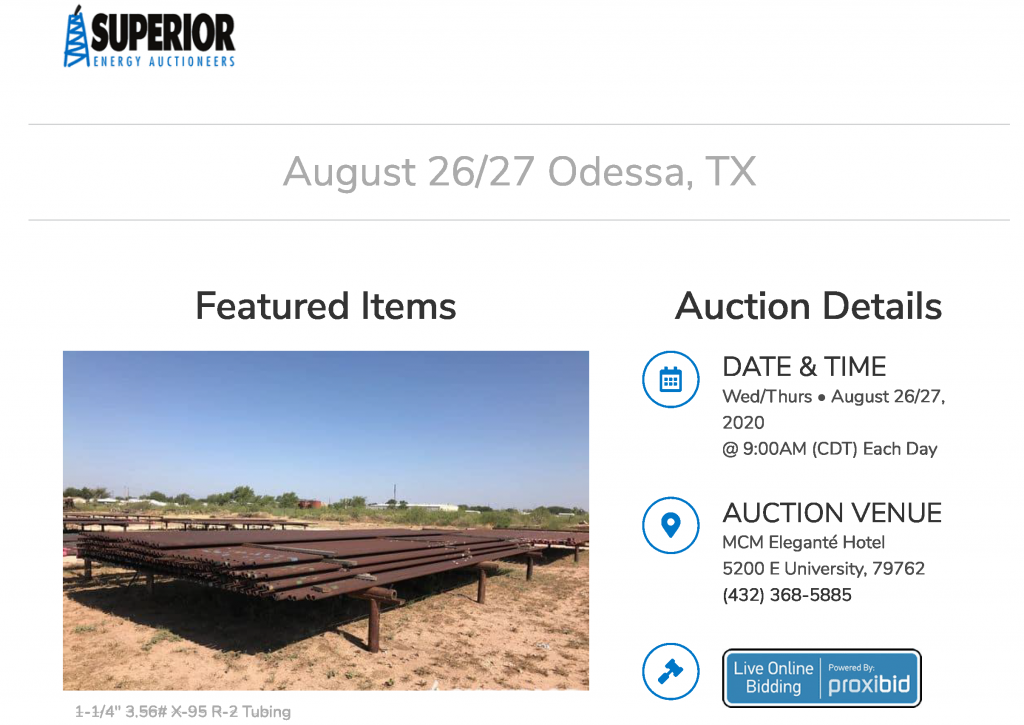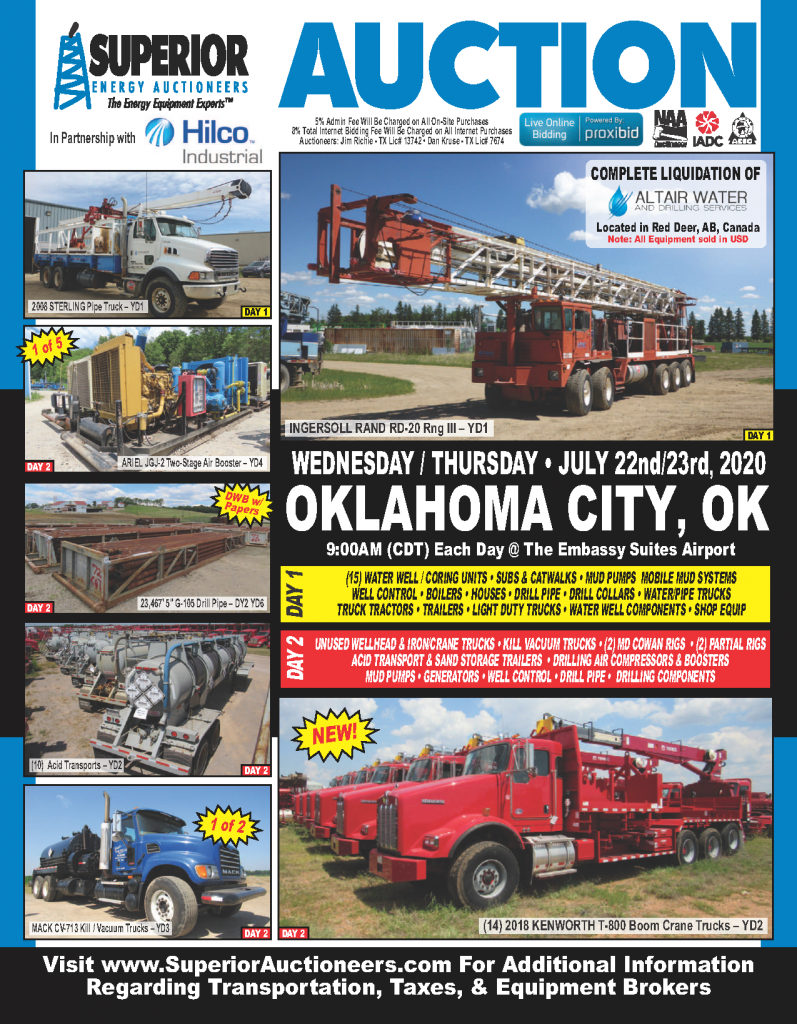 According to Wood Mackenzie's analysis, the oil price crash wiped US$1.6 trillion off the valuation of the global upstream industry.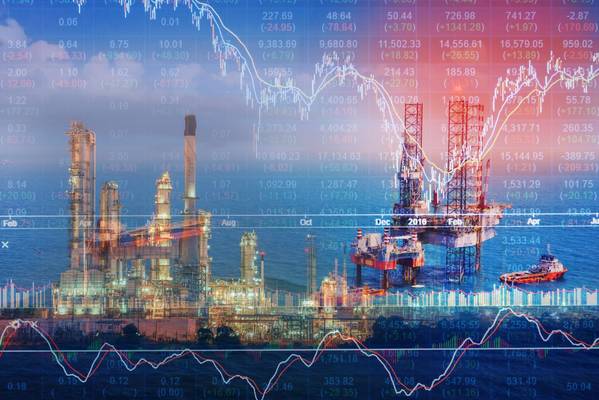 When a company with the asset base of Chesapeake files for bankruptcy, it creates tremendous opportunities for a small, efficient asset buyer like Ledger Petroleum.
June 9, 2020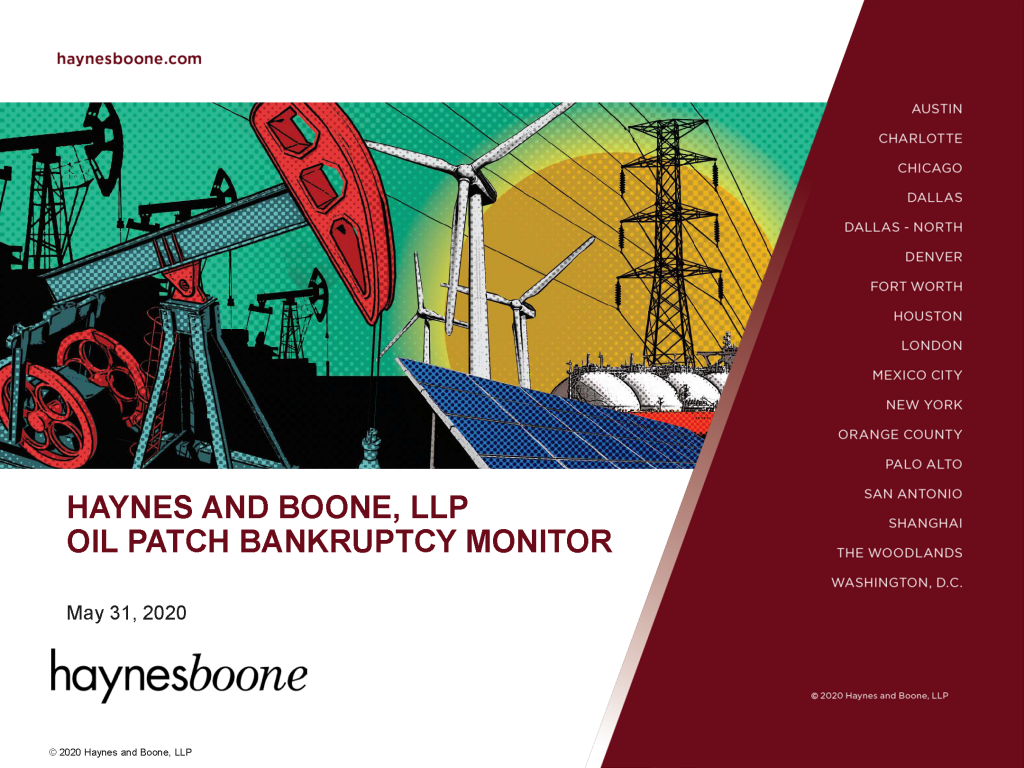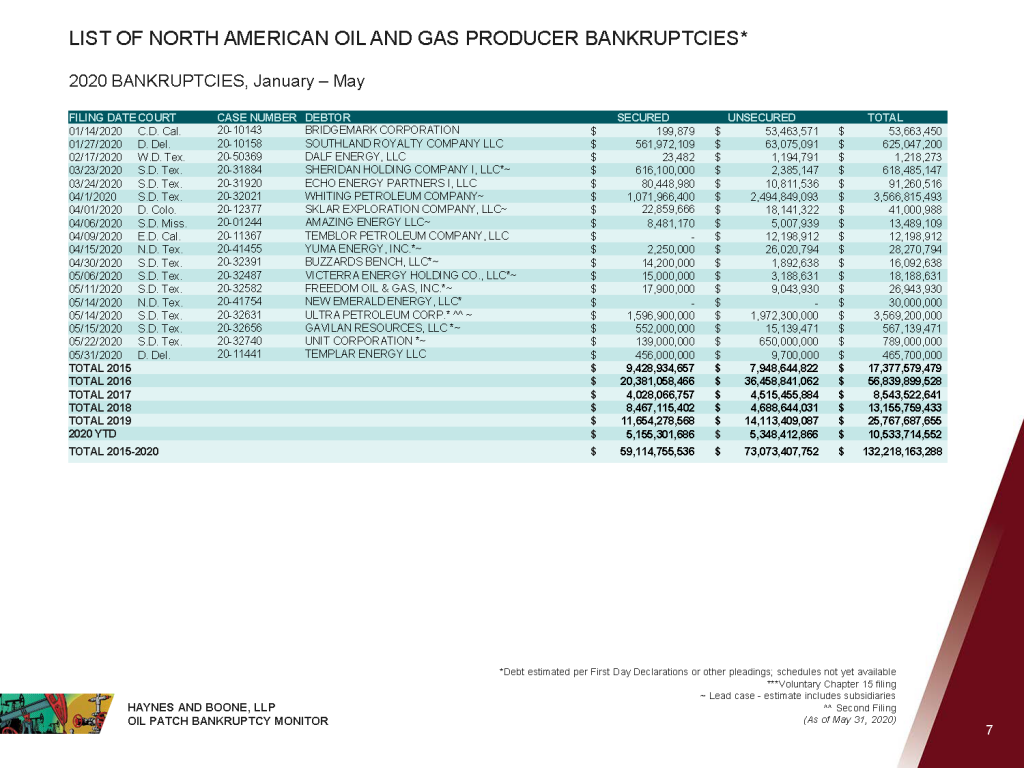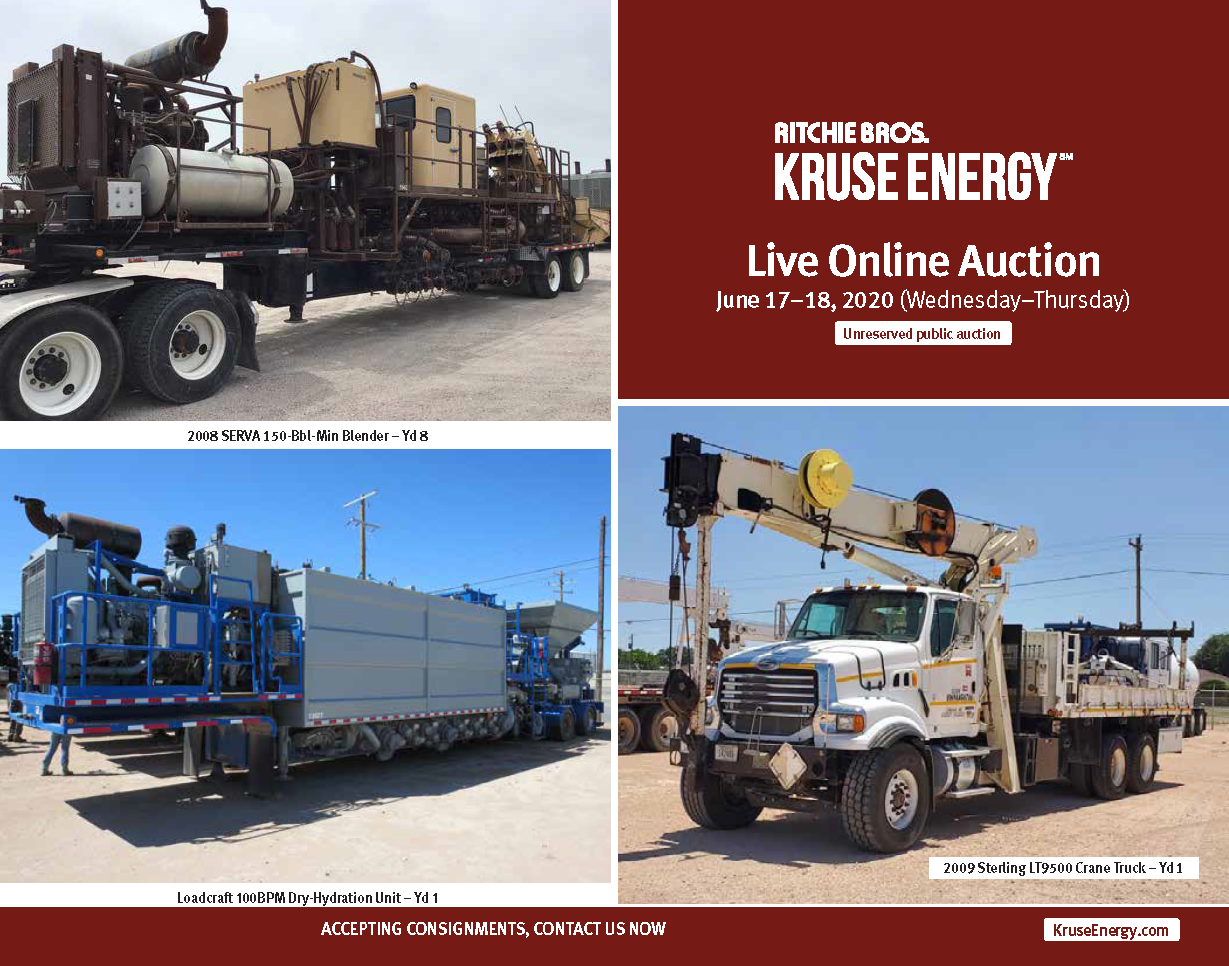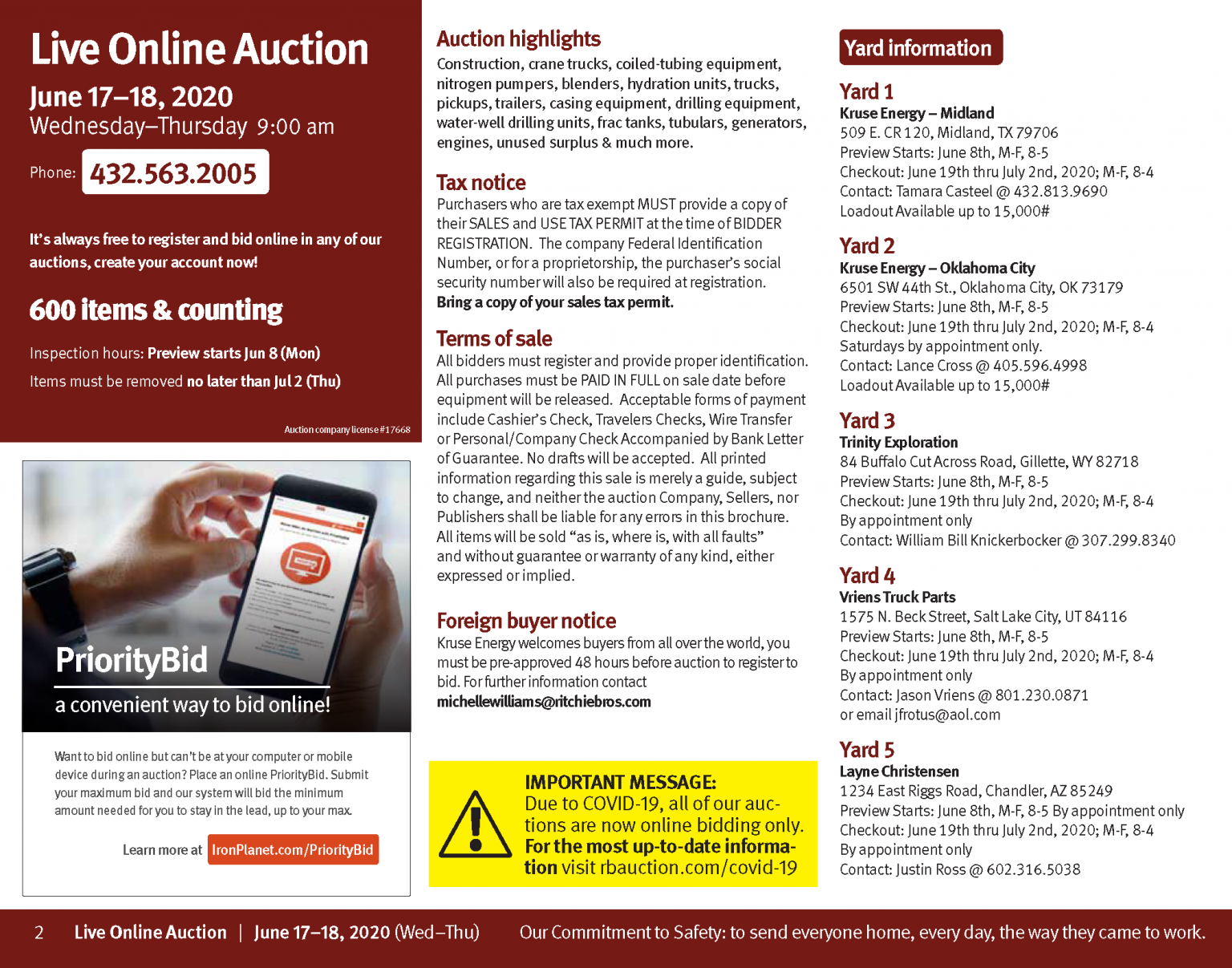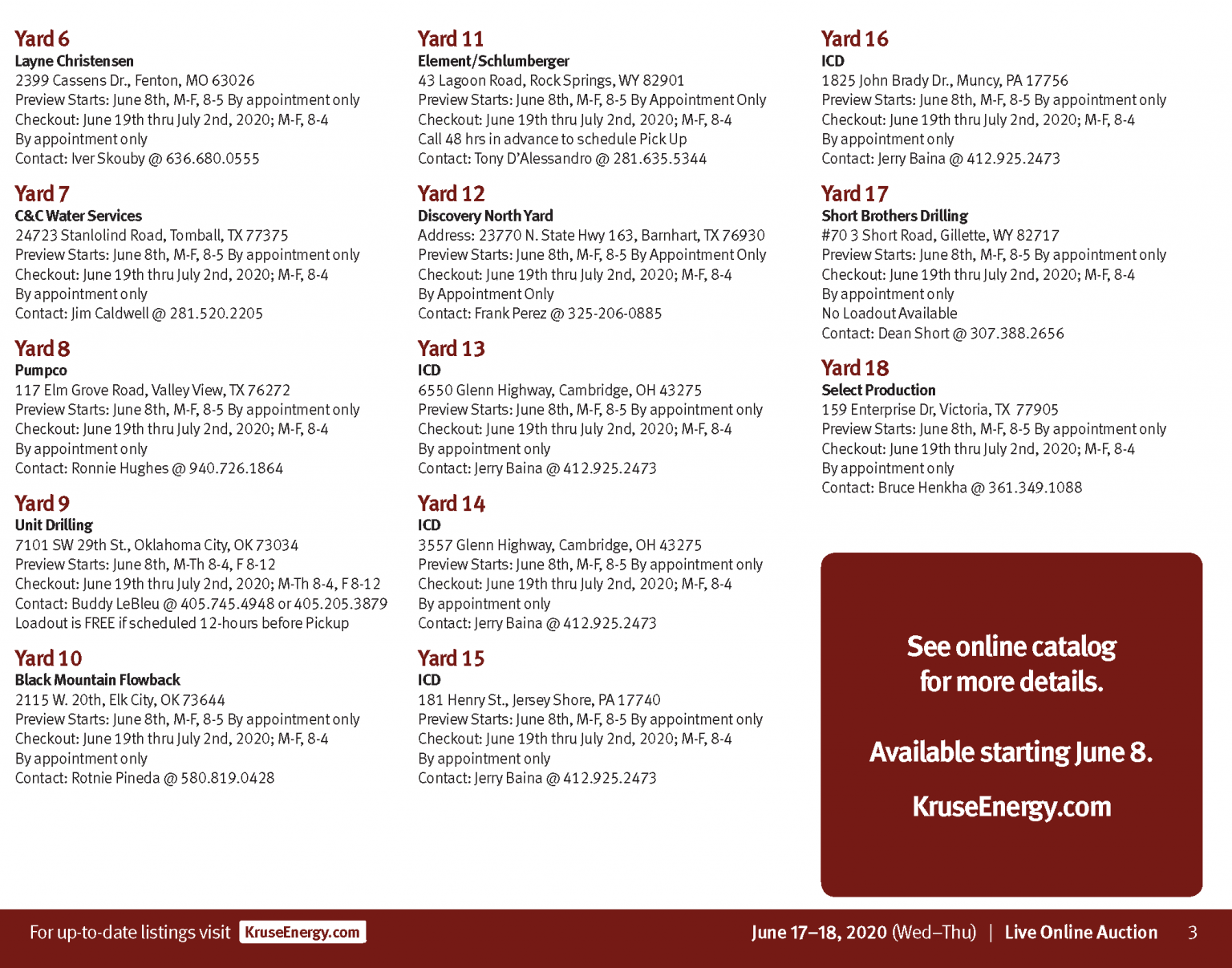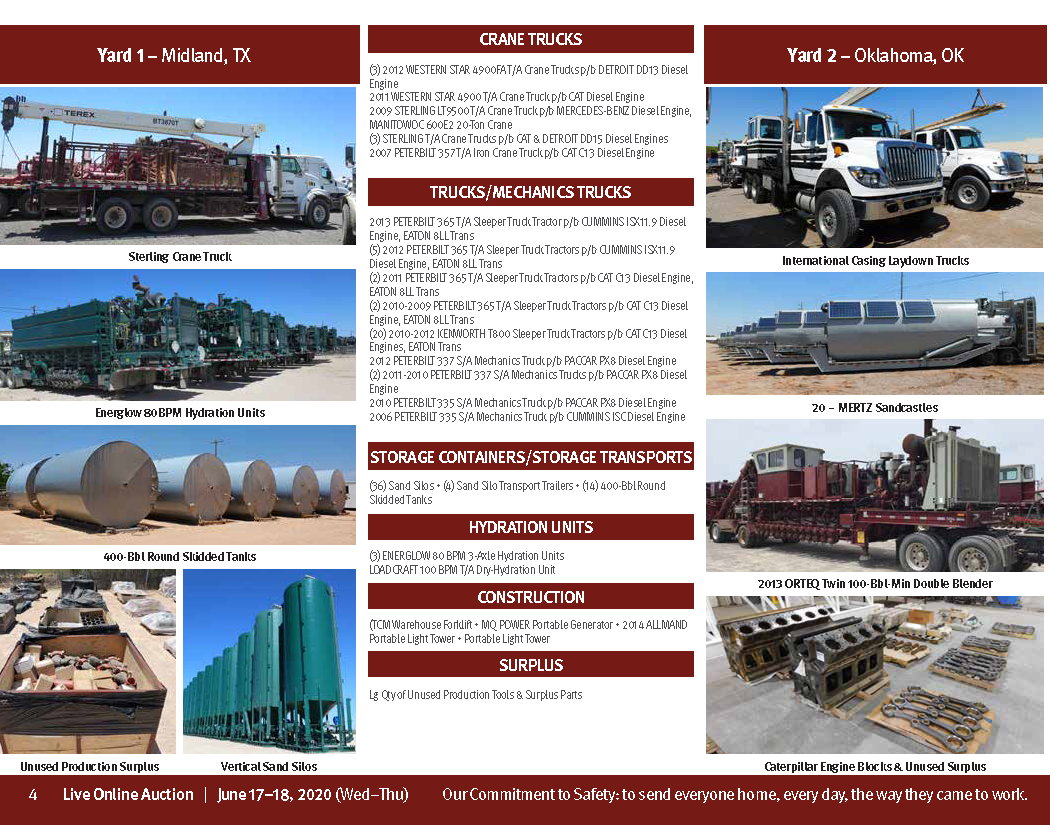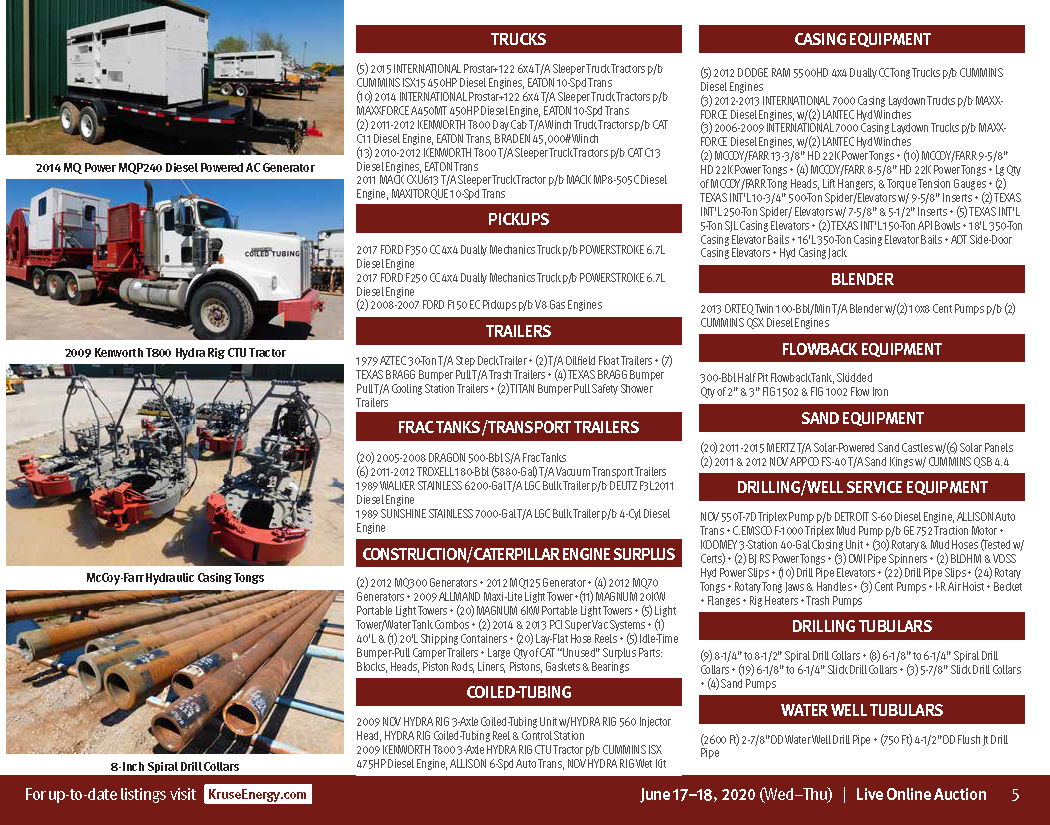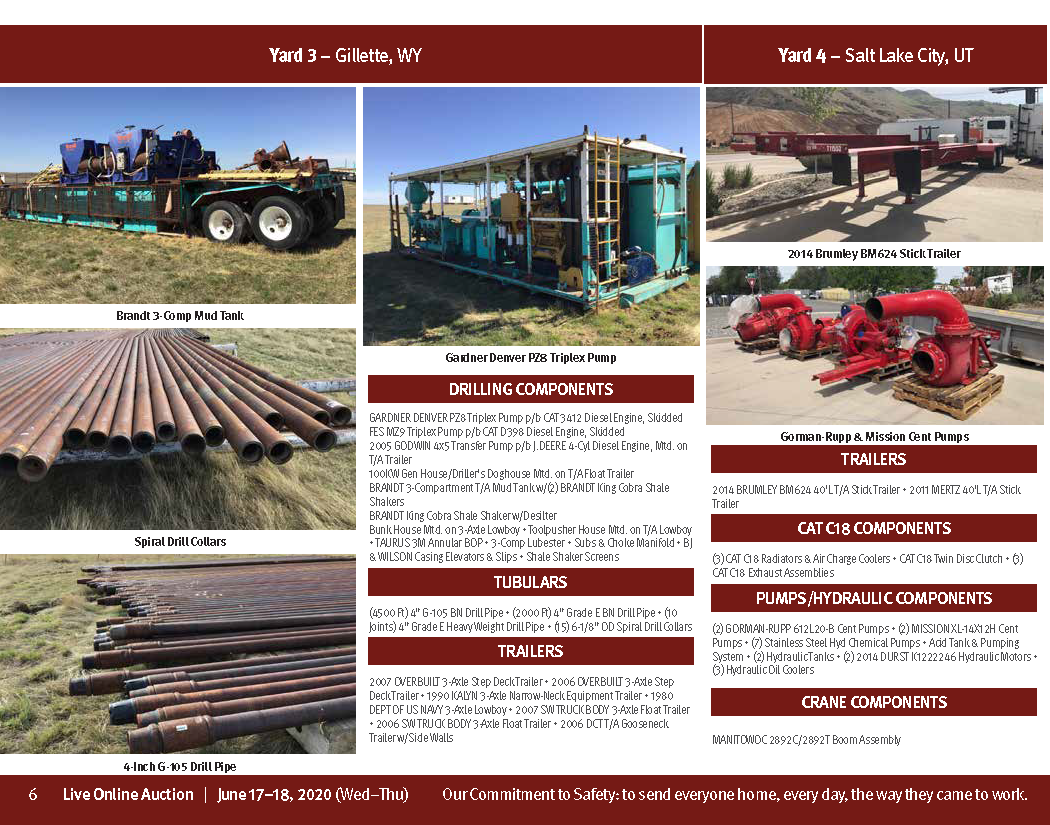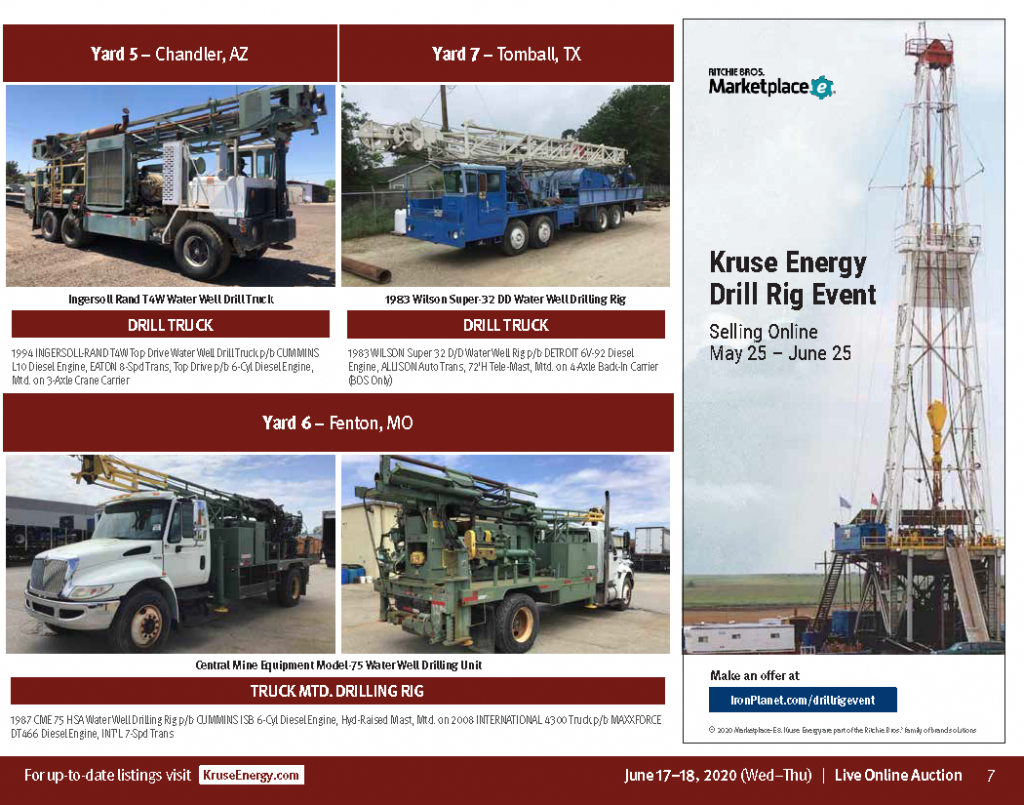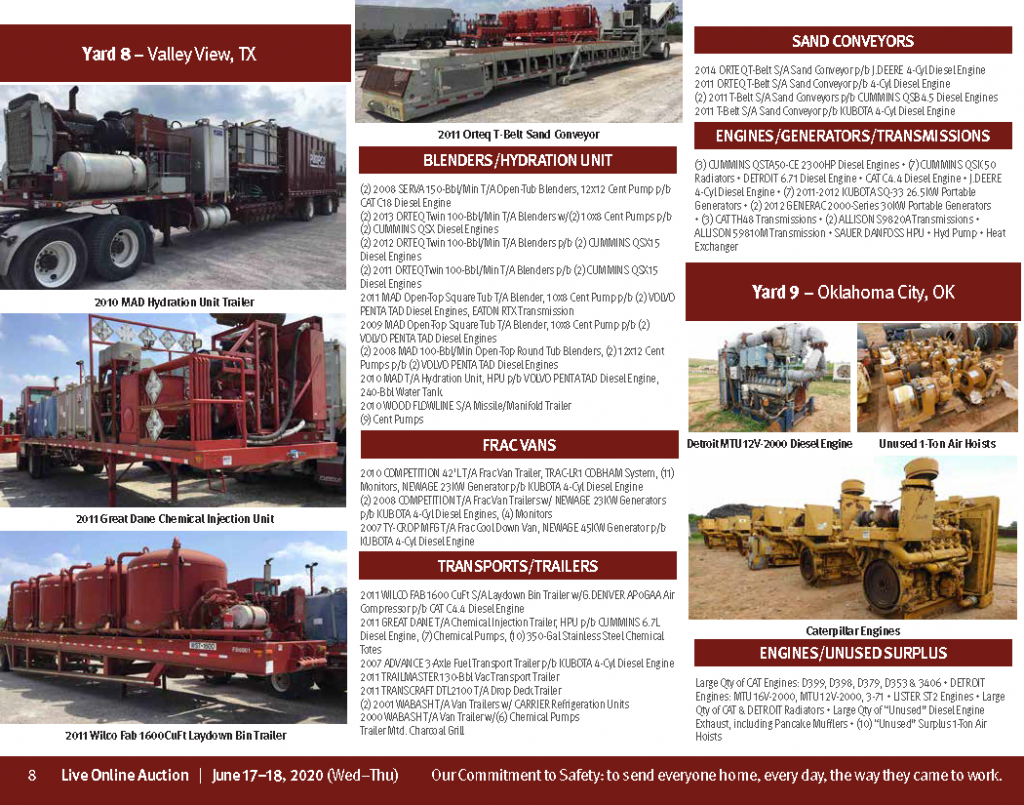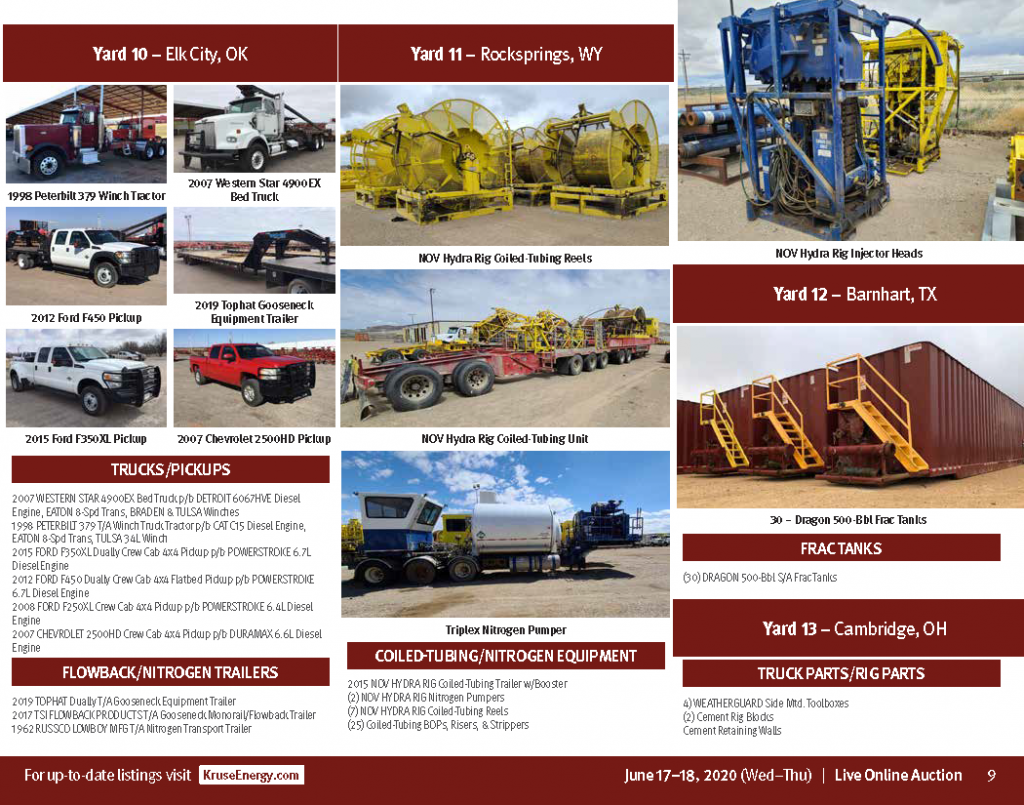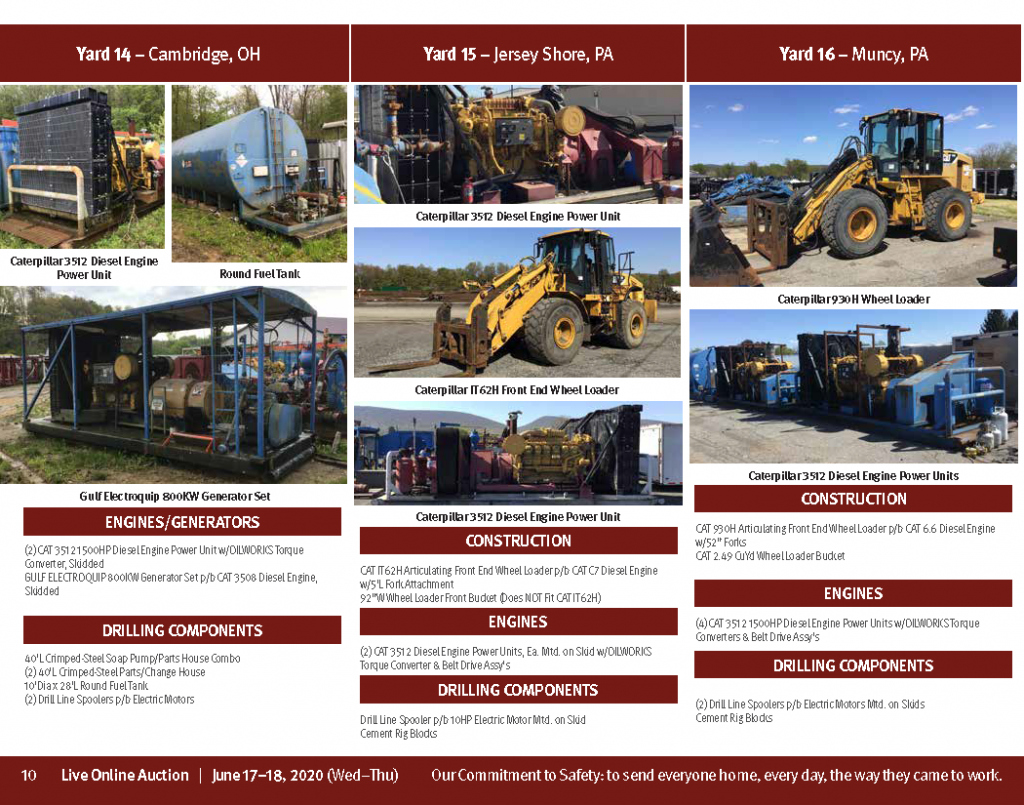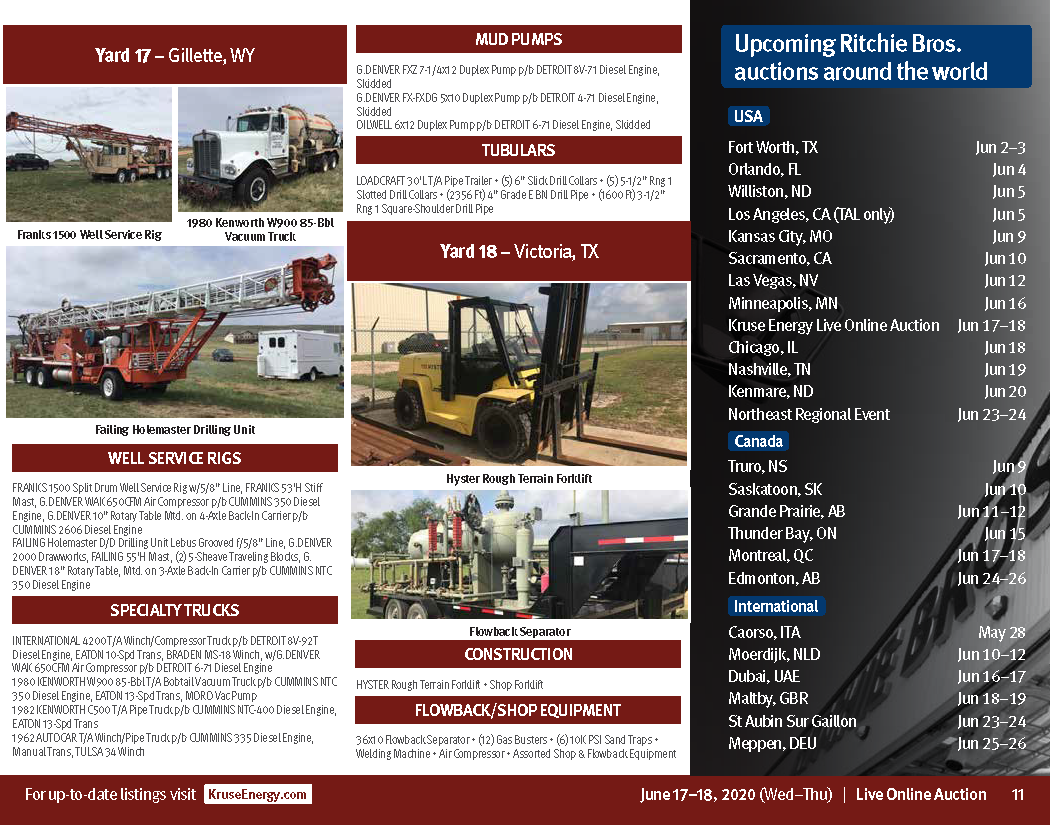 Machinery Auctioneers is hosting another Public LIVE Virtual Auction on June 23rd. 
The last auction we held brought over $5 Million with buyers from 41 states and 7 foreign countries.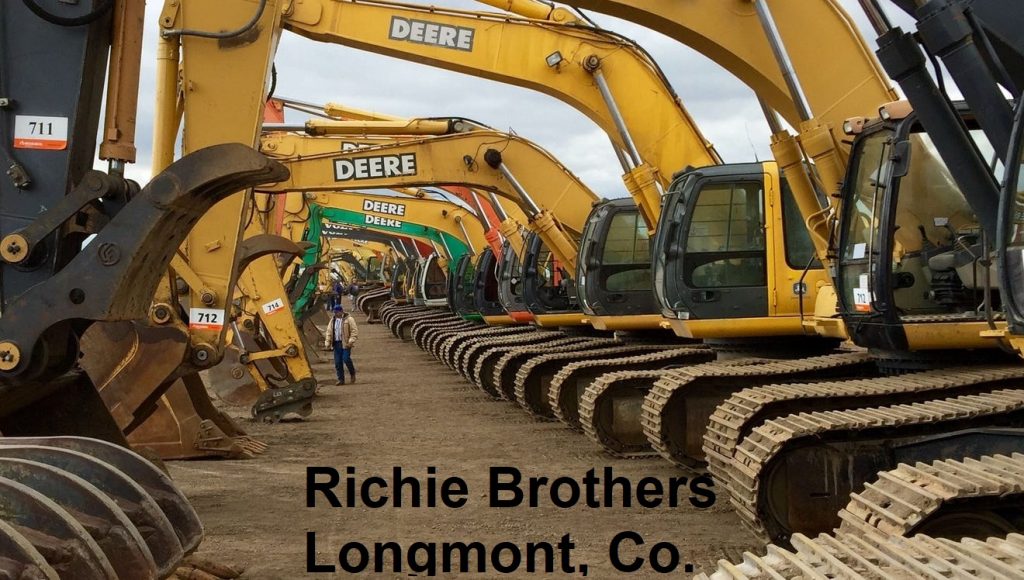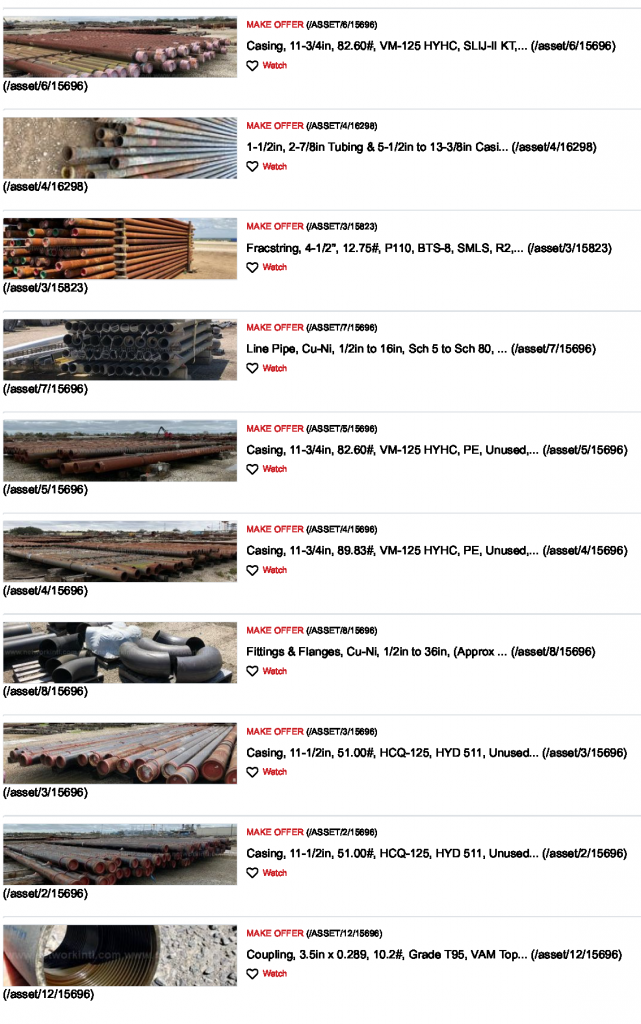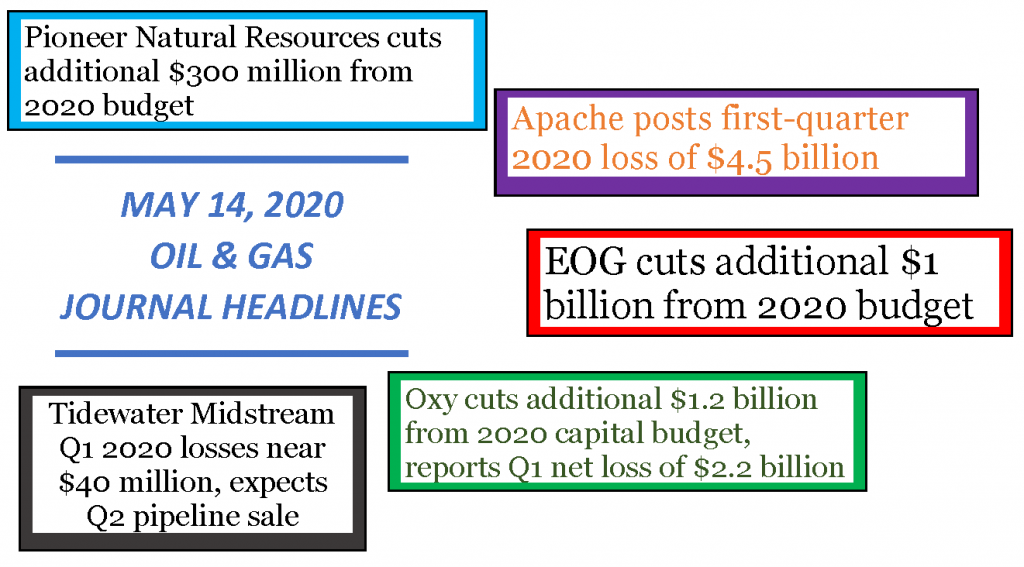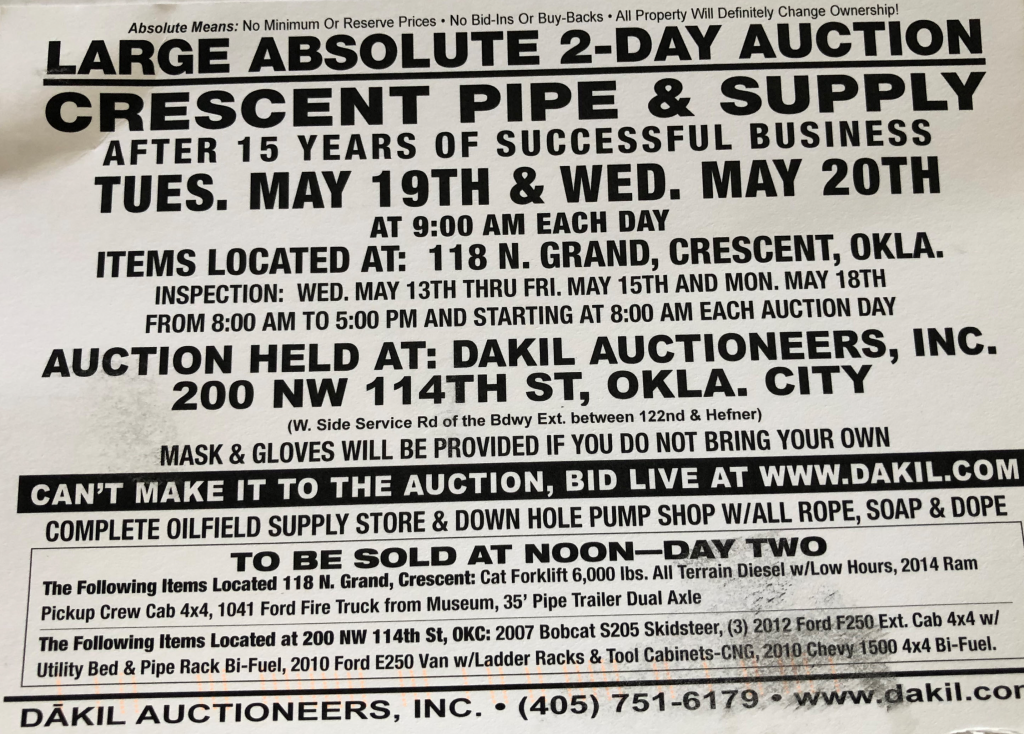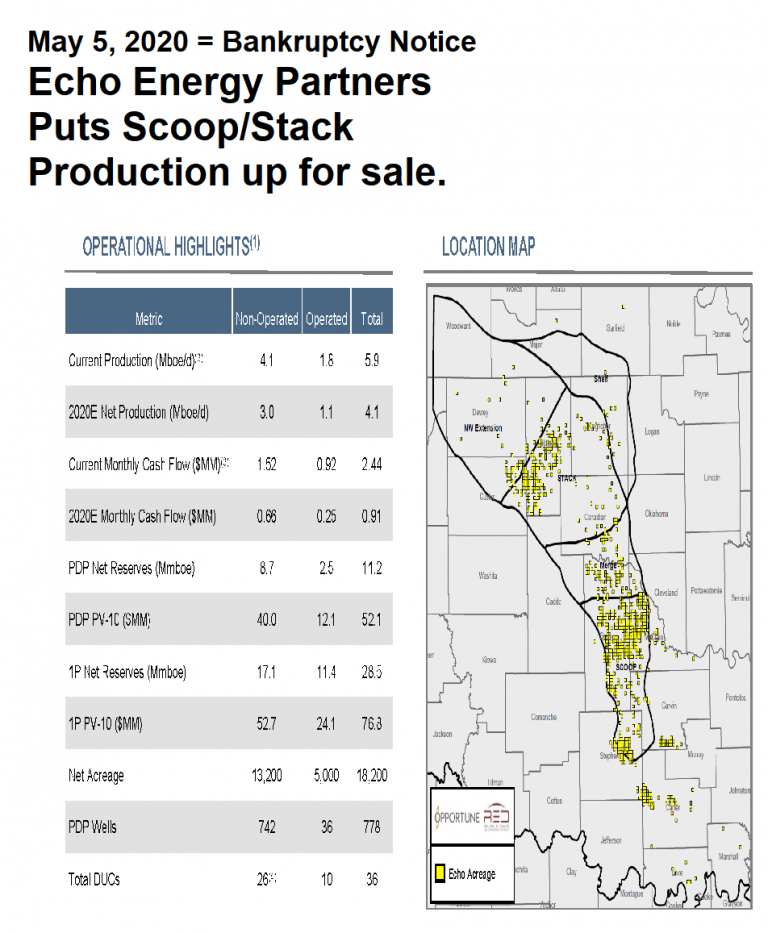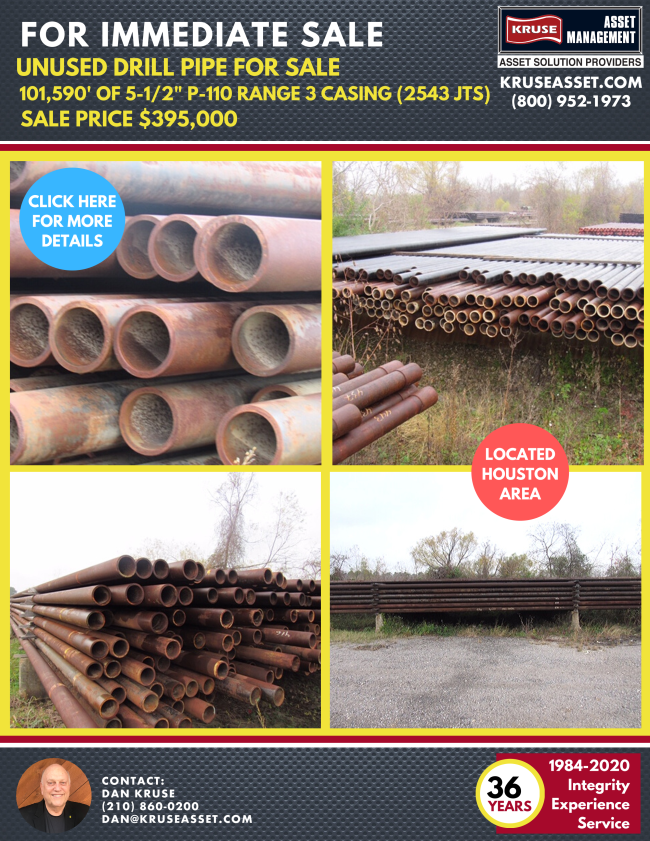 1986 – Resolution Trust sold real estate for pennies on the dollar.  Condos in North Dallas sold for $100.  City blocks of vacant homes in Austin, Houston and D/FW sold for pennies on the dollar.  CPE was there bidding.
1997 – Banks sold oil and gas production for less than $5/boe in the ground.
2009 – Banks sold real estate and Oil & Gas production assets for deep discounts.
Patient buyers with good management teams are able to make 5x on their investments in 36-48 months.
Custom Private Equity wants to be your distressed asset fund manager. 
Principal, Custom Private Equity, Inc.
Sponsor of Ledger Opportunities Partnership, Ltd